Office Cleaning Perth and Surrounding Suburbs
Your office isn't just a place of business; it is also where your employees expect to feel physically and medically safe. That's why it is so important that business owners ensure that their office premises are always clean. Since offices are heavy traffic areas, it is imperative that an office receives regular cleaning, if not multiple times a day. Fortunately, that's where Sparkle Commercial Cleaning comes in!
Sparkle Commercial Cleaning guarantees business owners a 100% clean office and a quick turnaround time. Whether you want the office cleaned twice a day or need someone to visit your office every weekend, you can count on us to deliver. We offer a thorough office cleaning service, using environmentally friendly cleaning solutions and the highest quality tools. So, you can be assured of a great-looking office that smells as good as new!
Call us today to learn more about our outstanding office cleaning services in Perth.
Why Choose Sparkle Office Cleaning Professional Cleaning Services?
At Sparkle Commercial Cleaning, we aren't your average commercial cleaners. Our team of cleaners are dedicated to offering our clients the best office cleaning that money can buy, but without breaking the bank. That's why we have become the city's go-to commercial office cleaning specialists.
Below are a few more reasons to choose our office cleaning services Perth:
Excellent communication – Unlike any other cleaning company, you receive a single point of contact, which means you don't have to deal with a chain of people. Plus, you're assigned a cleaner who will clean your office each week or every day. This way, you're not stuck with a new person lurking through your office daily.
Transparency – Access to your office is strictly held by our supervisors. The cleaners aren't given access to the keys. This ensures that your office and everything within it is secure along with a proper cleaning schedule.
Safety – In addition to a high standard of cleaning, we also ensure that every cleaner working for us has gone through a police check to ensure that they can be trusted. We do not employ cleaners with criminal records. 
We specialize in providing outstanding cleaning services – We use the best cleaning solutions, machines, and tools to ensure impeccable cleaning of your office. Our cleaners do not leave until they are satisfied that your office is 100% clean. This applies to all our general office cleaning services, regardless of the size or type of office we are cleaning.
Excellent customer service – If you have a complaint, need help, or want to provide feedback, our customer service professionals are always available and ready to help. In fact, they are just one call away. This is what makes our commercial cleaning Perth stand out from the rest.
Ready To Take Office Cleaning in Perth to the next level? Call us today for a quote.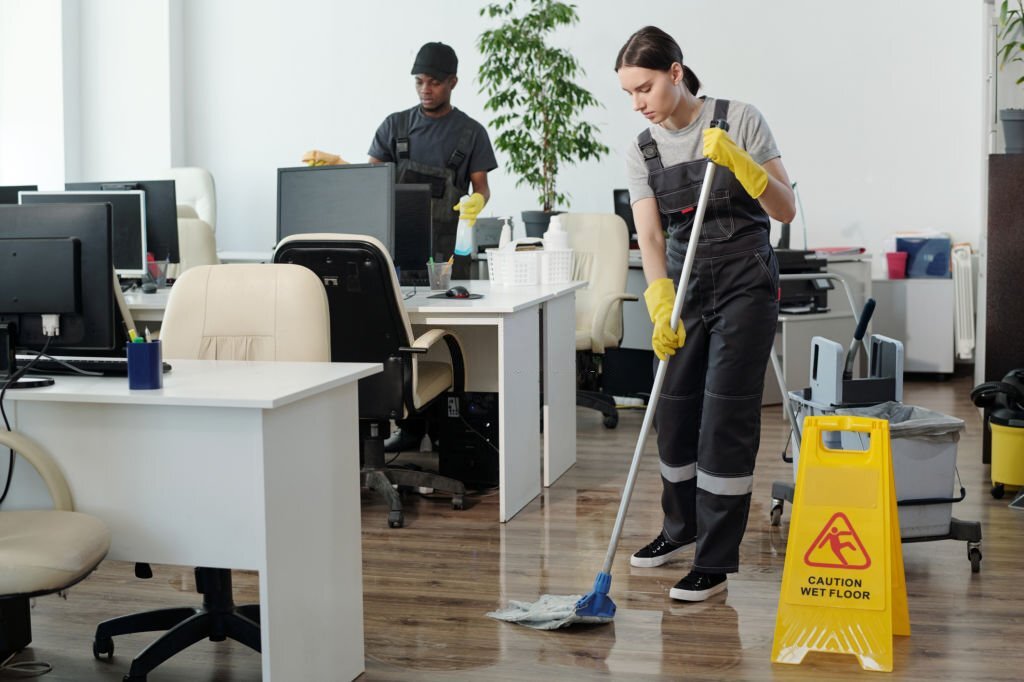 Leading and Affordable Cleaning Services in Perth
We take a customer-centric approach to clean offices and have, over the years, consistently delivered clean offices to our increasingly large list of clients. As professionals, we value your time and plan to ensure that the cleaning is accomplished in the shortest time and the most efficiently, with minimal disruption to your business.
Our office cleaners perth are well trained and experienced, which is why you can be assured of an excellent outcome. We are perhaps the only commercial cleaning company that invests in regular training of our cleaning team to ensure they are a notch ahead of the rest.
Today, our commitment to quality continues to set our office cleaning service apart from that of the competition. Even the smallest details don't go unnoticed, and this attention to detail has earned us an excellent reputation for delivering on our promise of a clean office.
Our cleaners leave no area untouched in their effort to clean your office, sometimes undertaking multiple passes of a single location until they are satisfied. This is why you can be assured of an unsurpassed level of cleaning of your office space.
Well Priced Commercial Cleaning Services In Perth
Every one of us enjoys working in a clean environment. Not only is it healthy, but it also helps you feel more energetic. Nothing beats working in a fresh-smelling office. However, busy work schedules and multiple people walking into and out of the office make keeping it clean a hassle. Fortunately, our team is experienced and equipped to ensure that your office continues to look as good as new without breaking the bank.
While we offer an affordable cleaning service, it does not mean we cut corners. Instead, the contrary. We aim to provide clients with, i.e., business owners, the best value for money cleaning. This is why you can be assured that despite our pricing saving you money, it does not skimp on cleaning quality.
We also provide a deep cleaning service, that exceeds your cleaning needs, while at the same time preparing your office for a fresh start.
Do you have a question about our Perth office cleaning service? Feel free to give us a call.
Cleaning That's Tailored To Your Business
We tailor our commercial cleaning services to your business's needs. Whether your office operates 24/7, during the wee hours of the day, or has regular working hours, we'll tailor and schedule our services accordingly.
We can also tailor our cleaning services to the type of business. For instance, our cleaning services for schools and restaurants will be different for an office building or administrative block of a university. Regardless, we always put the best people in charge of keeping your space clean.
Contact Us Today
A clean office is a productive work environment, and that's something nobody understands better than you. Our goal is to provide affordable commercial cleaning in Perth, regardless of the type, size, or location of your office.
So, give us a call today to find out how we can help make your work environment more productive.