POST CONSTRUCTIONAL BUILDERS CLEANING SERVICES PERTH
WE MOVE THE DUST OUT SO THAT YOU CAN MOVE IN
Have you recently built a house or renovated your building and found yourself left with dust and dirt? Construction work may be overwhelming if you don't have a plan to deal with the post-job mess. Builders cleaning Perth offers services to help you get on with your life after a renovation or home construction project. Unlike your regular cleaning, professionals at builders cleaning Perth provide a one-off deep clean for every inch of your home.
From floor to ceiling, we provide a variety of building cleaning services to fulfill your post-construction needs. Whether it's a time-consuming or quick tidying up the cleaning process, we use non-toxic and eco-friendly equipment and products that enable your home to move in.
What's included in Builder Cleaning Perth? Post-construction or post-renovation cleanup often includes:
The first and foremost step in builder cleaning is to make sure the walls are free from dust, dirt, unwanted marks, and smudges as well.
Thoroughly clean doors, door frames, windows, and window frames with a power washer.
After the entire project of construction, expert builder cleaning Perth ensure that all the plastic material, stickers, and covering papers have been removed from walls, tiles, windows, doors, and from other possible places
The builder cleaning process involves double dusting; one is a dry dusting of electricity boards, fans, light fixtures, and ceiling. The other is wet dusting to finish up the builder cleaning procedure.
The next step in the post-construction cleaning process is trim cleaning. We wipe out all the trims to make sure that there is no grime and dust left.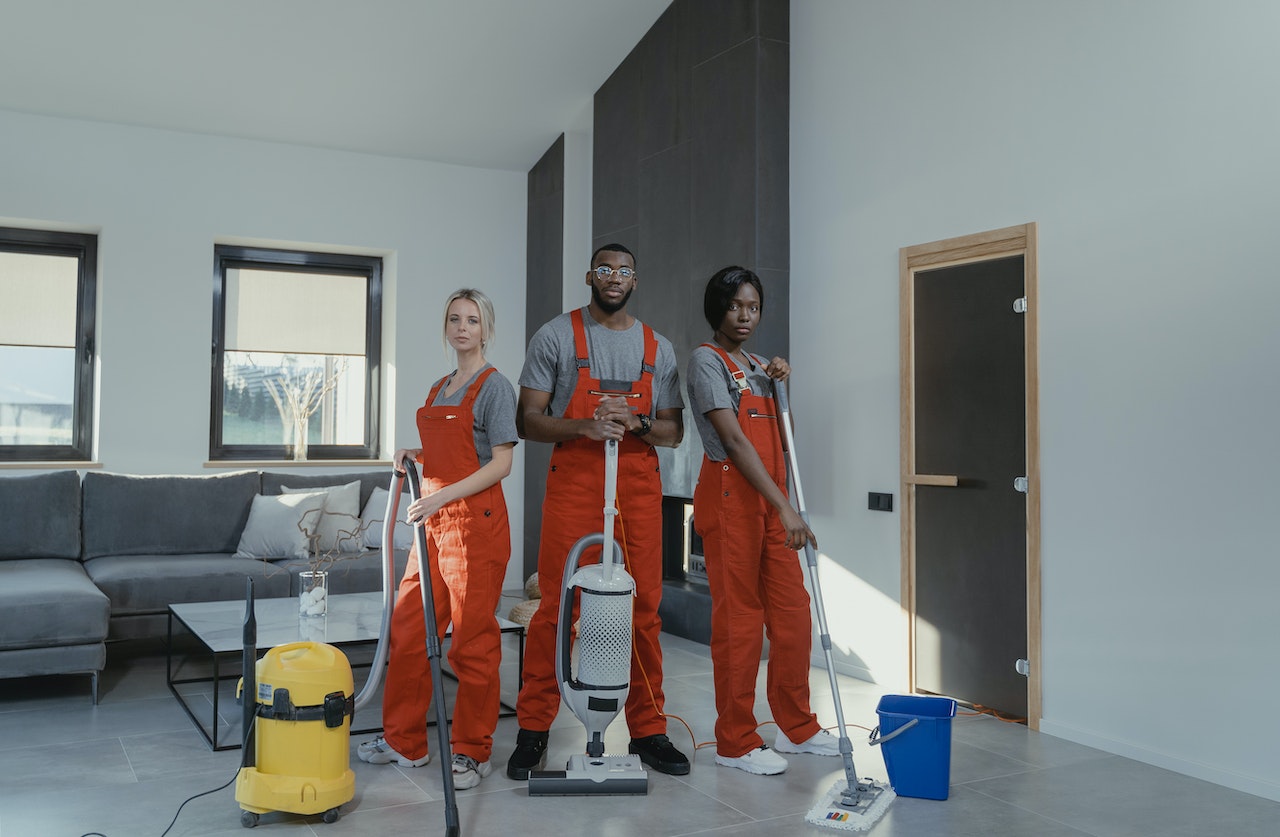 After wiping down all the trims, vacuuming of carpeted floors is done if any are present in the house. If there is no carpet in the home, we replace vacuuming with sweeping of the floor surfaces.
After completing those steps, the next step is towards the cleaning of common areas such as balconies and doorways.
The next step that should be done is cleaning all the appliances thoroughly. This includes removing dust and dirt internally and externally to make sure that all the appliances are dust free.
We will make sure to take away all the debris or trash present in your home due to recent construction work. Elimination of all the possible hurdles that can create hindrance while moving in. This whole process can't be done without hiring professionals. So, don't worry. We at builders cleaning Perth are available 24/7 to help you.
In the end, you can check every nook and cranny of your house to ensure that there is no dust or debris left that requires final cleaning.
How Long Does Builders Cleaning Take?
Generally, builder cleaning is an on-off cleaning process and takes a bit more time than your usual regular cleaning. Because you have to remove all the debris and dust from the post-construction project, the time taken by builders cleaning services depends on multiple factors. These may:
The size of your house
Kinds of building materials that you use to construct your house.
floor designs
Cleanliness of labor during the building process
Whether or not the workers performed the initial cleaning
The Phases of Builders Cleaning Services
In the building cleaning process, we go through all the phases from rough cleaning to exterior cleaning to ensure your move-in procedure is easy and comfortable.
Phase I: Rough Cleaning
When your construction comes to an end, the very next task you have to do is rough cleaning. Rough cleaning involves scrubbing down concrete or plywood to ensure that your flooring installation is correct. This also includes a taking away collection of all the debris and leftover building materials, as well as any other waste pieces for disposal. Removing the plastic material and stickers from doors, windows, and glasses is also on the list of rough cleaning.
Phase II: Light Cleaning
Light cleaning is the in-depth cleaning phase of builder cleaning; it also needs more labor and equipment. Common rooms, kitchens, bedrooms, dining rooms, corridors, and other public areas pass through this cleaning phase. Cabinets, windows, water tanks, toilets, sinks, basins, showers, and other counters are also cleaned.
Phase III: Final Cleaning
The final cleaning phase involves minute touch-ups. While vacuuming or dusting in the second phase, some minute dust particles or marks of fingerprints are left over that are vacuumed or wiped up in the last phase. Our professional team members give a final touch to the whole area of the property to wipe down any stains and markings that were left behind after the construction project.
Why is Builders Cleaning So Important?
Builders cleaning plays a very important role after the construction project. Because this enable you to move into your home or building. Without this, you can't meet your standards. No one wants to enter a dirty and unclean home, so builders cleaning is necessary, otherwise you have to do more work after you move in.
If construction companies don't wipe out debris after completing the task, they won't remain in this business for long. People want to see well-kept, neat, and clean homes when they hire construction companies. Builder cleaning is also important to ensure the safety of the people who will live in this home. After hiring builders cleaning Perth, you should rest assured that there won't be any glass or nails left that can send you to the doctor's clinic to remove them.
Hiring Builders Cleaning Perth Can Be a Good Idea
Hiring Builders Cleaning Perth can be a good idea and a wise decision. If you think that you will not move a step forward for post-construction cleaning, you can't do it by yourself. Professional cleaners will save you a lot of money and a lot of time.
Builders cleaning services are very useful because they do this for a living. Our professionals have all the tools and products to ensure that the job is done correctly. Most cleaning firms claim to offer the best services, but they can't provide such transparent services as builders cleaning Perth company offers.
There's a Reason We Claim the Best Services in Perth
Our competitive experts at builder cleaning Perth have the required equipment, training, and years of experience to make sure that your new house is now available for move-in. Our team members are task-oriented, insured and police verified for your peace of mind, and they work to your satisfaction. Clients' smiles are our achievement.
Why call us for Builders cleaning services in Perth?
Deep cleaning as soon as possible is our top priority so that you can enjoy your new home sooner.
We offer one-time projects to save you money and time.
Our three-phase cleaning process ensures nothing is left behind to clean.
Our highly experienced and qualified experts know all the latest technologies and tools which are used during building cleaning.
We provide a customer-centric and transparent approach when it comes to providing builders cleaning services.
Looking for High-Quality Builders Cleaner?
Sparkel Commercial Cleaning is a market leader in builders cleaning and has completed numerous projects. We provide cost-effective services so that you can get rid of post-constructional cleaning headaches within your tight budget. We at Sparkel Commercial Cleaning services know that how builders cleaning project is tough and stressful for the client and are ready to help you with our good manner services.
What are you waiting for? Contact us; we will be right there…